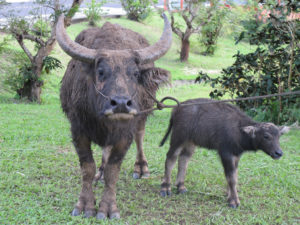 [from Wikipedia] The water buffalo (Bubalus bubalis) or domestic water buffalo is a large bovid originating in the Indian subcontinent, Southeast Asia, and China. Today, it is also found in Europe, Australia, North America, South America and some African countries. The wild water buffalo (Bubalus arnee) native to Southeast Asia is considered a different species, but most likely represents the ancestor of the domestic water buffalo.
Two extant types of domestic water buffalo are recognized based on morphological and behavioral criteria – the river buffalo of the Indian subcontinent and further west to the Balkans, Egypt, and Italy, and the swamp buffalo, found from Assam in the west through Southeast Asia to the Yangtze valley of China in the east. The origins of the domestic water buffalo types are debated, although results of a phylogenetic study indicate that the swamp type may have originated in China and was domesticated about 4,000 years ago, while the river type may have originated in India and was domesticated about 5,000 years ago.
At least 130 million domestic water buffalo exist, and more people depend on them than on any other domestic animal. They are especially suitable for tilling rice fields, and their milk is richer in fat and protein than that of dairy cattle.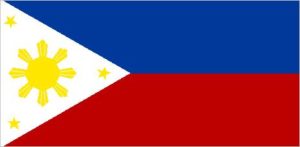 M.R.D. Uy and colleagues, from  the Philippine Carabao Center National Headquarters and Gene Pool, Science City of Muñoz 3120, Nueva Ecija, Philippines published a study titled: Serological and molecular evaluation of Mycobacterium avium subspecies paratuberculosis (Johne's disease) infecting riverine-type water buffaloes (Bubalus bubalis) in the Philippines in the journal Comparative Immunology, Microbiology and Infectious Diseases, Volume 61, December 2018, Pages 24-29. A total of 70 blood and fecal samples were collected from water buffaloes in selected municipalities of Nueva Ecija for ELISA and qPCR assay:
2.48% of the 70 buffaloes were ELISA-positive using serum samples.
14.28% were qPCR-positive using fecal samples.
Nucleotide sequence of isolated MAP showed high homology (99–100%) with reported MAP isolates.
---
Other publications on MAP in water buffaloes
P. Sivakumara, B.N. Tripathia, NemSingh. 2005. Detection of Mycobacterium avium subsp. paratuberculosis in intestinal and lymph node tissues of water buffaloes (Bubalus bubalis) by PCR and bacterial culture. Veterinary Microbiology, Volume 108, Issues 3–4, Pages 263-270.
P. Sivakumar, B. N. Tripathi, N. Singh, A. K. Sharma. 2006. Pathology of naturally occurring paratuberculosis in water buffaloes (Bubalus bubalis). Veterinary Pathology 43:455–462.
D. Yadava, S.V. Singha, A.V. Singha, et al. 2008.  Pathogenic 'Bison-type' Mycobacterium avium subspecies paratuberculosis genotype characterized from riverine buffalo (Bubalus bubalis) in North India. Comparative Immunology, Microbiology and Infectious Diseases, Volume 31, Issue 4, Pages 373-387.
F. Grandoni, et al. 2017. Characterization of leukocyte subsets in buffalo (Bubalus bubalis) with cross-reactive monoclonal antibodies specific for bovine MHC class I and class II molecules and leukocyte differentiation molecules. Developmental & Comparative Immunology, Volume 74, Pages 101-109.
---