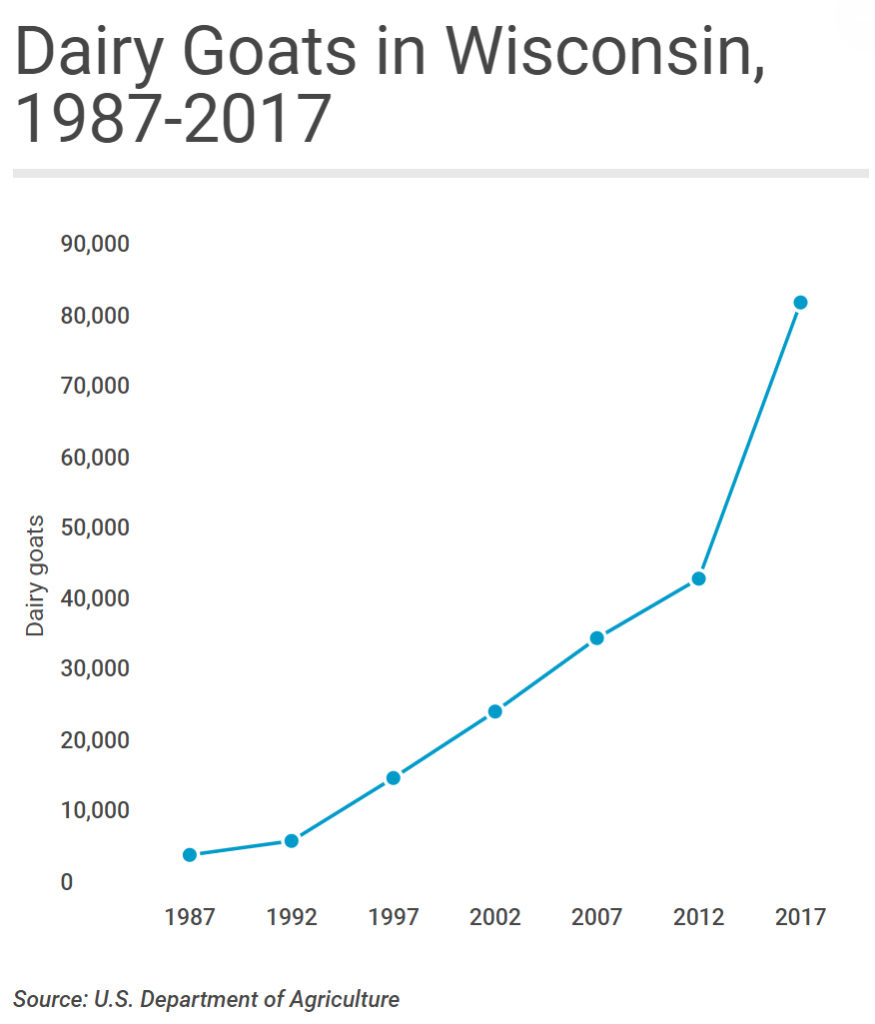 As reported in the Wisconsin State Farmer, September 16, 2019:
Wisconsin's self-proclaimed moniker as "America's Dairyland" is taking on fresh meaning in the 21st century thanks to a growing market for milk from an animal that bleats rather than moos. While the state's traditional dairy cattle industry continues to hemorrhage producers at a record pace, Wisconsin's dairy goat industry is in the midst of a long-term, and accelerating, growth spurt. Indeed, in 2019 Wisconsin can reasonably claim to be America's dairy (goat) land.
Data from the United States Department of Agriculture, which counts livestock across the United States every 5 years, show just how much Wisconsin dominates the nation's dairy goat industry. In 2017, the most recent year the USDA surveyed producers, the size of Wisconsin's dairy goat herd easily topped the nation at more than 83,000-head. California came in a distant second, with some 43,000 dairy goats, while Iowa, Texas and Missouri rounded out the top five.
It's not only the sheer size of Wisconsin's dairy goat herd that stands out: The state also leads the nation in the value of sales from dairy goat operations and is the epicenter of national growth in goat dairy.
Read the rest of this excellent article that contains many useful links here.
Comment:
Rapidly expanding animal industries commonly overlook biosecurity risks feeling compelled to buy animals regardless of health status. Many of these new dairy goat operations have 5,000 to 10,000 goats. Operations only can attain this size by purchase of goats from many different herds. Purchasing animals is the #1 way by which herds, whether of cattle, sheep or goats, become infected with MAP.  This then leads to long-term problems of animal health, animal welfare, animal productivity and animal longevity which all translate to a negative economic impact due to Johne's disease.
Johne's disease is common among all goat breeds.
Many owners fail to realize their goats are MAP-infected and therefore do not implement control measures with the result that the infection continues spreading. In this article in the Wisconsin State Farmer, I also observed that links provided in this article to goat associations and experts never once mention biosecurity concerns or the threat of Johne's disease.  So unfortunate!
Goat owners and veterinarians must be much more aware of Johne's disease and implement biosecurity protocols and on-farm control measures to mitigate the damage caused by Johne's disease. When MAP becomes recognized as a food-borne zoonotic pathogen, these large goat herds with face a daunting task to control or eradicate this infection.
The age-old wisdom that "prevention pays" should be heeded. 
---