Dr. Judy Stabel and colleagues from the USDA-ARS-National Animal Disease Center, Ames, Iowa, USA compared new plant-based disinfectants to the more traditional phenolic and quaternary ammonium disinfectants in ability to kill MAP. Their publication appears in the September 2020 issue of the Journal of Microbiological Methods. This is a useful explanation of disinfectants for MAP and shows the contact time required for 100% killing, which is longer than for most microbes.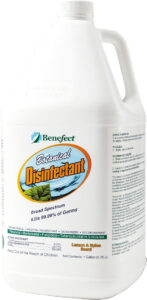 Abstract
Mycobacteria are difficult to kill due to the complexity of their cell wall. Further, Mycobacterium avium subsp. paratuberculosis (MAP) has one of the more elaborate cell wall compositions of all the mycobacteria. As a working pathogen within a research laboratory setting or as an environmental contaminant shed in the manure from infected animals, MAP is highly resistant to typical disinfectants. In the past, the most successful disinfectants to kill mycobacteria were based upon phenolics, harsh compounds that can break down the lipids within the cell wall. New disinfectants have been developed that are less toxic to the environment, however, it is unknown how well they perform compared to more traditional disinfectants. In the present study, we present comparative data on the utility of a commercial eco-friendly disinfectant, Benefect®, compared to Amphyl®, a phenolic-based disinfectant, and Lysol®, a quaternary ammonium-based disinfectant, to kill MAP in pure culture, tissues, and manure. Results demonstrated that Benefect was highly effective with up to 100% kill of MAP within 30 min in all experiments, paralleling results obtained with Amphyl. Lysol performed the most poorly, requiring longer contact times to kill MAP. These results suggest that natural, nontoxic ingredients can be used to disinfect even hearty pathogens such as MAP effectively, both within the laboratory and on-farm.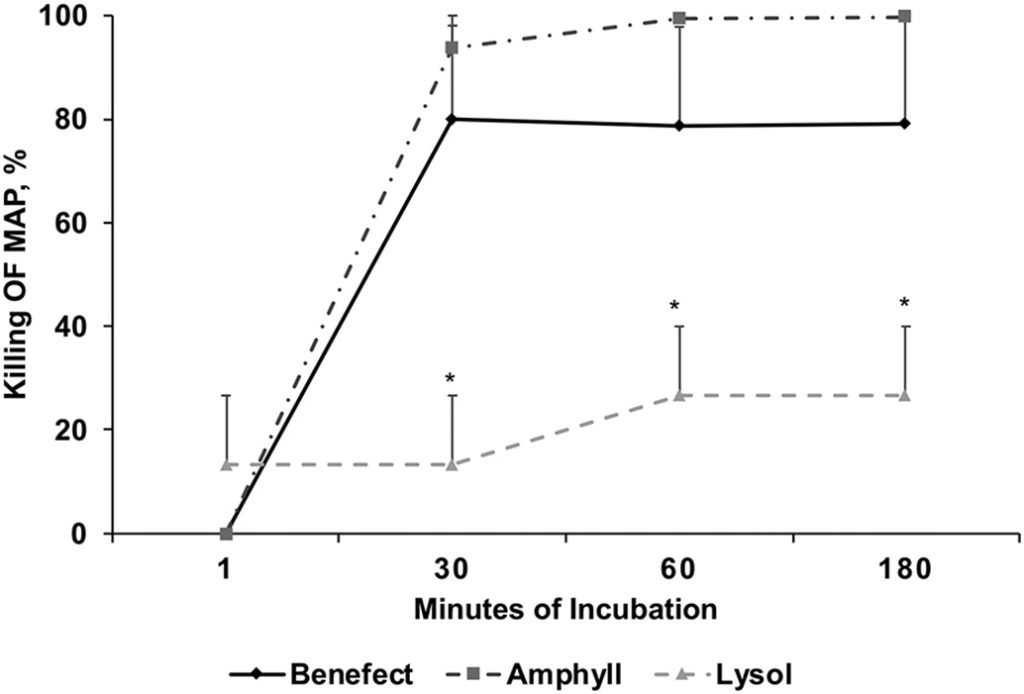 Comment: One of the more common questions from animal owners concerns disinfection of animal facilities after discovery of a MAP-infected animal. This new research gives a new and safer option for disinfection. Thank you Dr. Stabel!
---