The 7th and 8th IDF Paratuberculosis Fora took place on 26 May 2021 and 12 June 2022 respectively. The 7th event was virtual while the 8th Forum was held in conjunction with the International Colloquium on Paratuberculosis in Dublin, Ireland, and both were chaired by Dr. David Kelton (Chair of IDF Standing Committee on Animal Health and Welfare). The participants shared insights about the current situation and control measures of their respective countries on Mycobacterium avium subsp. paratuberculosis (M. paratuberculosis).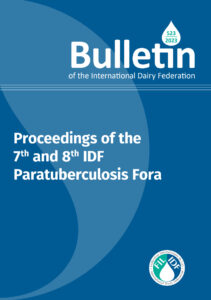 The Fora offered a unique opportunity for sharing past, present, and future perspectives on paratuberculosis (M. paratuberculosis, ParaTB) control, and served as a place for engaging in meaningful international discussion about how to address this globally important issue. The Fora highlighted the need for more investment in animal health, and opportunities for some harmonization and more research on factors affecting the disease progression. This publication contains a selection of eight papers, all of which were presented by program representatives on the 7th or the 8th ParaTB Fora days.
The Proceedings are available for download FREE at the IDF website.
---