Research Article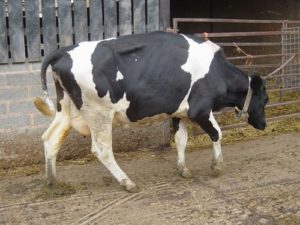 J. Smith and S. van Winden from the department of Pathobiology and Population Sciences, Royal Veterinary College, Hertfordshire, UK reported 10-June-2019 in the journal Animals a study on the association of lameness in dairy cattle with a diagnosis of Johne's disease (JD) based on ELISA testing of milk samples (IDEXX kit).
Findings: JD cows turn lame on average three months earlier and are lame 2.7 times more often than non-JD cows. Further, high-positive cows were 2.8 times more likely to develop lameness after JD diagnosis compared to medium-positive cows (referring to the magnitude of the ELISA result – further evidence of the importance of reporting ELISA results quantitatively). Results of this study suggest that there is a link between JD and lameness and that JD precedes lameness. The underlying mechanisms for this association remain unknown and were not the scope of this study.
This article is an open access article distributed under the terms and conditions of the Creative Commons Attribution (CC BY) license (http://creativecommons.org/licenses/by/4.0/).
Comment: To assess lameness in dairy cattle a scoring system was created and converted to an App by the faculty at the University of Wisconsin, School of Veterinary Medicine, department of Food Animal Production. Read more about the App and scoring system HERE.
---